Our History
The business world has seen many changes in the 160+ years since our founding. But what hasn't changed is our commitment to the work we do - protecting the savings and livelihoods of countless hard-working individuals around the globe.
History
Brink's CC Express (1859–1919)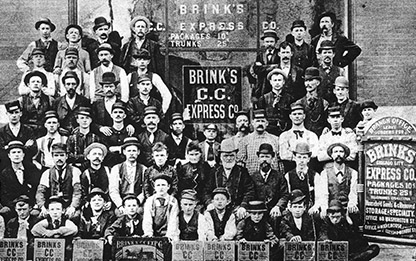 Perry Brink's Chicago City Express Company used a variety of typestyles during the 19th century. Wagons were painted with "Brink's" and whatever additional parts of the name would fit, showing up in photos as "Brink's Ex.", "Brink's C.C. Ex. Co.", "Brink's CC Express Co." and others. In this 1880 staff photograph, several styles are simultaneously present.
Brink's Express Company (1919–1934)

The company's first stock was sold in 1879 as "Brink's Express Company," but the simpler name wasn't widely used until 1919, when the first non-Chicago Brink's branch was opened in Cleveland. The Brink's Express Company shield logo, often cast in metal and affixed to the side of armored trucks, signified the strength and security of the company's operations.
Brink's Incorporated (Shield Logo) (1934–1959)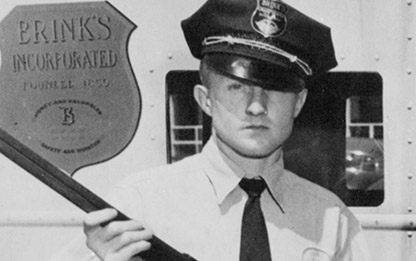 In 1934, the company officially changed its name to Brink's Incorporated and updated the shield logo with the new corporate style.
Brink's A Pittston Company (1959-1981)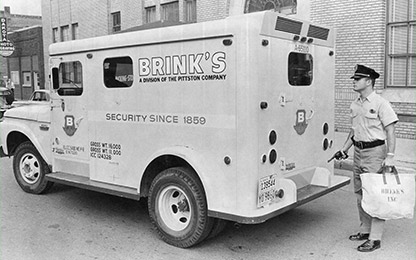 After the acquisition by Pittston, a transportation and mining conglomerate, the older shield logo was dropped in favor of a simple block type logo. Pittston changed its name to "The Brink's Company" in 2004.
Brink's Global Logo (1981–present)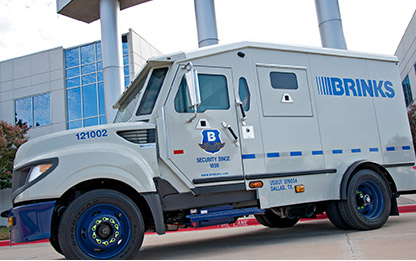 One of the oldest commercial brands in the world, Brink's has been synonymous with security and trust since being founded in 1859 and is today known around the world. The current Brink's logo was first used in 1981 and adorns Brink's vehicles, facilities, employee uniforms and products in more than 100 countries.
Shield Brand Trademark Evolution
Gothic B / White Band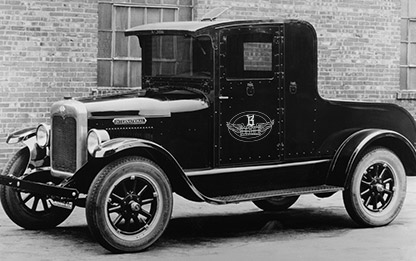 This shield logo featured a gothic "B" with wings lifting a trunk; it perfectly represented the company's early focus on transporting luggage in Chicago. Trademark documents record its first use in 1859, the same year Brink's was founded.
Gothic B / Money and Valuables; Safety and Dispatch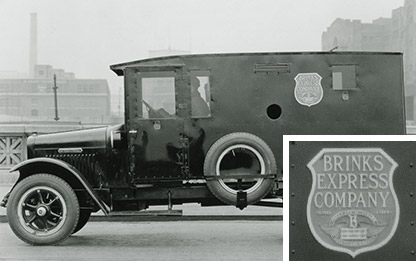 In 1927, in a new strategy to deter robberies, Brink's logos began appearing on trucks and facilities that had previously been unmarked. "Money and Valuables, Safety and Dispatch" frequently bracketed the older shield logo, underscoring the company's increasing reputation for secure transportation.
Gothic B / Black Band with Brink's Incorporated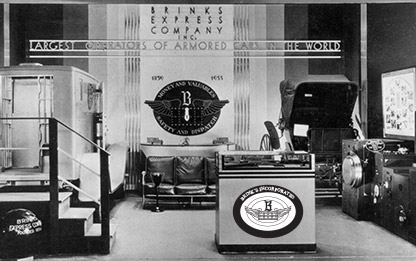 As the Brink's Express Company evolved and expanded early in the 20th Century, the shield was updated with a large black band. In 1934, "Brink's Incorporated" was added to accommodate the company's new name.
B (no space) with wings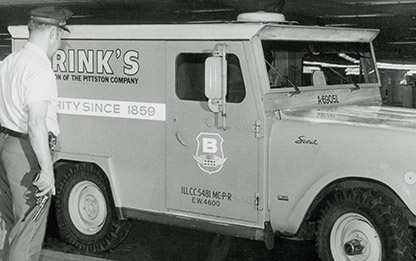 The acquisition of Brink's by the Pittston Company sparked a major refresh of the venerable shield logo. The B was replaced with a modern type style, the trunk was simplified and the wings redrawn with a more sophisticated treatment. The entire design was placed atop a new shield reminiscent of U.S. highway markers and that also echoed earlier Brink's logos (see above). This revised shield debuted in 1962.
B (space in character) with wings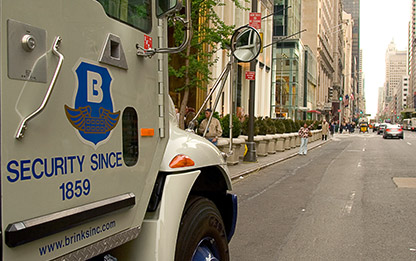 In 1981, the shield logo was updated again, this time to coincide with the new Brink's stutter logo (above). The 'broken B' of the stutter logo replaced the plain B of the previous design, and the wing drawing was greatly simplified, making the entire design both a bit more elegant and significantly easier to reproduce.
Products and Services Trademarks
Arch Brink's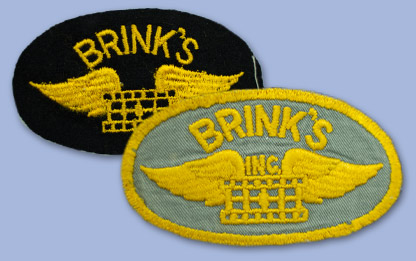 The arch Brink's was first registered in 1912 and has been used continuously since. Today, it is most frequently seen on employee badges and uniforms.
Brink's Cash Logistics

The Brink's Cash Logistics brand was born in 2001 to call attention to the company's money processing services for banks.
CompuSafe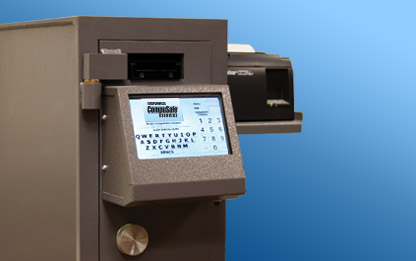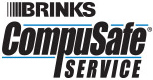 Brink's CompuSafe service was introduced in 1995, bringing new security and cash handling solutions to retailers.
Retail and Safe Labels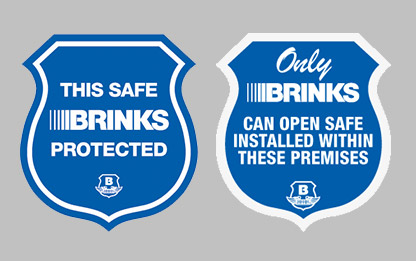 Brink's safe products have been offered to retailers since the 1920's; signs advertising their security have been nearly ubiquitous ever since.
Brink's Document Destruction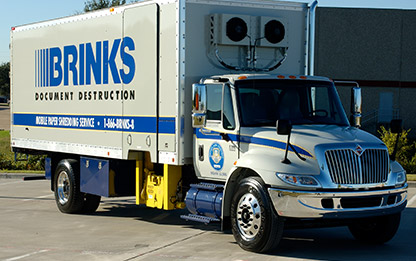 In the early 21st century, Brink's Document Destruction service began operation, offering secure transportation, storage and destruction of business documents.
Brink's Home Security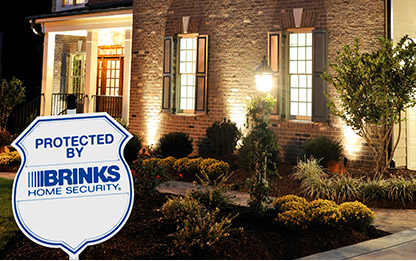 In 1983, Brink's Home Security opened its first branch office in Portland, Oregon. Offering home, retail, and small business security services, Brink's Home Security grew to more than one million customers by 2008. Today, the Brink's Home Security brand is still used on a variety of consumer products.
Consumer Logos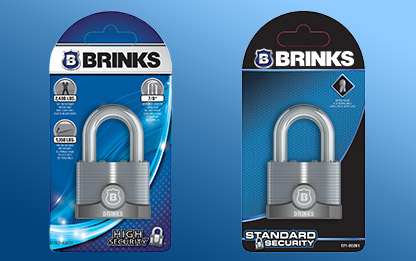 Now seen on many licensed consumer products, these trademarks include a much simplified shield logo with a large, modern "B" and a refreshed Brink's logo. Both are easier to print and read on small packages.
About Us - Fact or Figure
100+
Countries with customers